Our History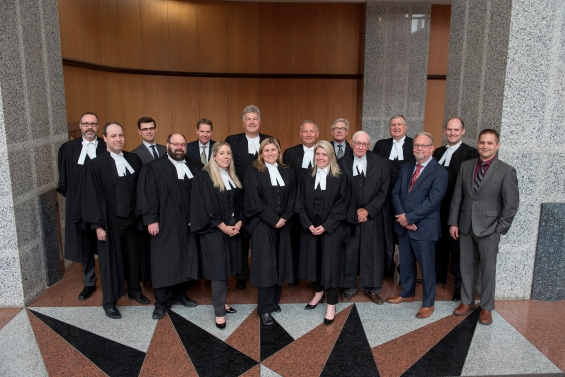 The firm has been in existence for over 60 years. It was founded by George Lochead, Esq., Q.C., now deceased, a renowned litigator who was one of the last Canadian Counsel to appear on Appeal before the Privy Council in England.
From inception, the firm thrived and attracted excellent practitioners, some of whom were subsequently appointed to the Bench. The Honourable Mr. Justice R. C. Sills, one of the first Partners, was appointed to what is now the Superior Court of Justice. On his retirement from the Bench in 2007, he returned to the firm as Counsel. The Honourable Coulter A. Osborne, also an early Partner, went on to become the Associate Chief Justice of Ontario, and the former Integrity Commissioner of Ontario. The Honourable Mr. Justice Douglas A. Bean was appointed to what is now the Ontario Court of Justice. The Honourable Pamela L. Hebner, a partner at the firm, was appointed to the Ontario Superior Court of Justice in 2015.
The firm currently consists of eleven Partners, three Associate lawyers, eight Law Clerks and an Articling Student who, together with support staff, operate from office premises in the City of Kitchener.
Over the last 60 years, we have maintained our reputation as specialists in a number of areas of the law, including, but not limited to, the defence of insurance claims, professionals, municipalities, manufacturers, family law and the conduct of civil litigation in general, together with a solicitor's practice including real estate, corporate commercial and estates. We are well respected in the area we service, extending from Windsor in the west, Toronto in the east, Owen Sound in the north and Simcoe in the south. Our special expertise has resulted in other firms and sole practitioners retaining us as Counsel.
Madorin, Snyder LLP is committed to providing legal service and advice directed towards achieving the clients' objective in the most effective and efficient manner possible. In doing so, Madorin, Snyder is ever mindful of the need for cost containment but not to the detriment of providing services in a professional, yet personalized, manner.
Madorin, Snyder LLP has always believed that its clients' interests and rights can best be advanced by a firm and principled approach. Truth, justice, fairness and integrity are the hallmarks of that approach. We remain committed to those values as we look forward to the next half century.