On May 17, 1974, the Grand River burst its banks as one month's worth of rain fell in 24 hours.  Before the waters had even receded, people were asking who was to blame.  The Province appointed Mr. Justice Wilfred Leach to conduct a Royal Inquiry into the flood.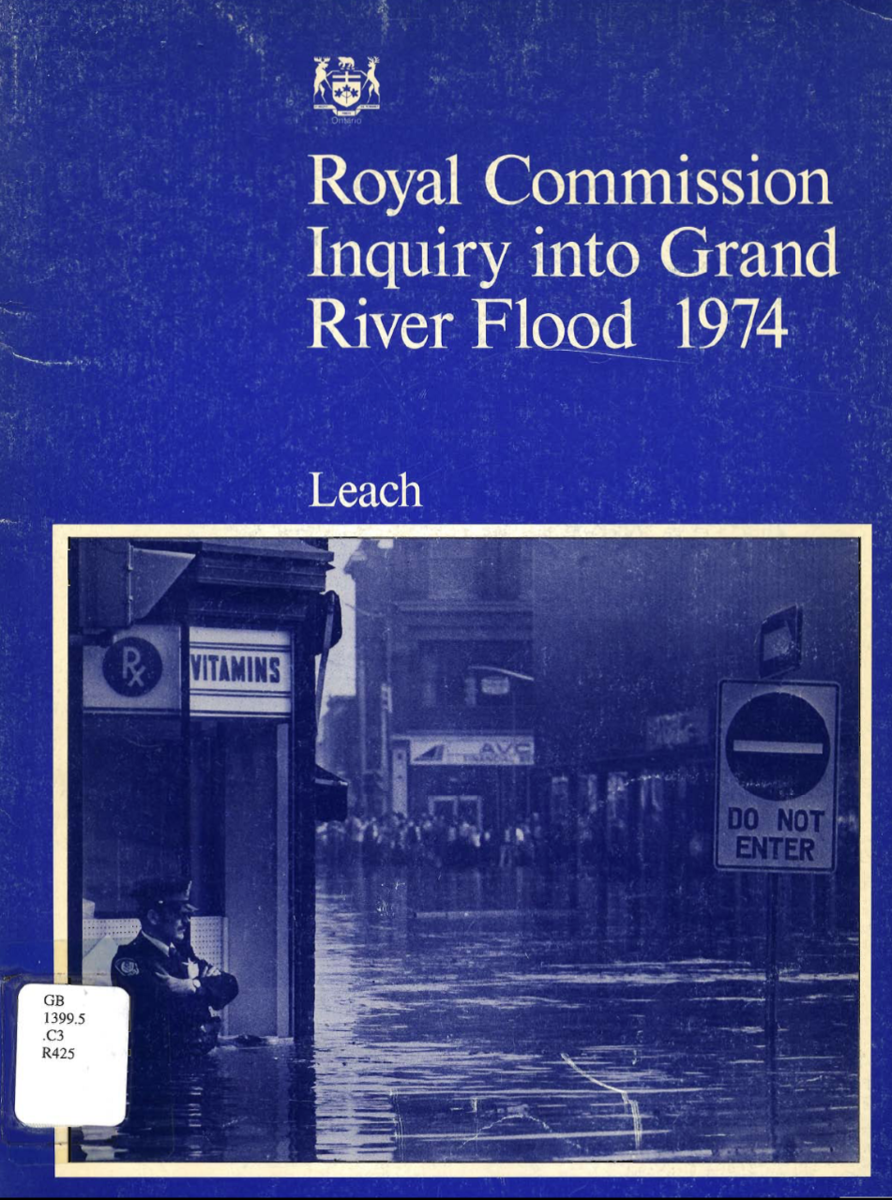 A lot was at stake.  The losses claimed in connection with the flood were in excess of $6,700,000, which is $32,000,000 in today's dollars.  The City of Cambridge was particularly hard hit. 
Peter Madorin, Q.C. was at the centre of the 44 day inquiry.  "Gore Mutual insured the Grand River Conservation Authority and various  municipalities along Grand River.  I was appointed by Gore Mutual to represent the GRCA and the municipalities they insured at the inquiry."
According to Peter Madorin, the various reservoirs operated by the GRCA were already at full capacity before the unexpected rainfall hit.  This was to ensure that there was enough water to 'flush' the river during the summer months. "The reservoirs were at risk of overflowing.  The GRCA had no choice but to release water from the reservoirs to prevent them from overflowing.  But opening the reservoirs made the flood worse downstream."   
Peter Madorin says that his objective was to prevent the various municipalities along the Grand River from criticizing each other.  "The GRCA was in the crosshairs at the inquiry, but it was also an issue whether the various municipalities had made the flood worse through improper storm water management.  I tried to discourage the various municipalities from pointing the finger at one another."  
In his report Justice Leach made various recommendations to prevent future flooding.  However, he found no fault with the GRCA's actions leading up to the flood. 
Fil Mendes is a civil litigator at Madorin, Snyder LLP whose practice includes the defence of municipal liability claims.  Madorin, Snyder LLP is a full service law firm servicing Kitchener, Waterloo, Cambridge, Guelph and the surrounding area.   
The information contained in this article is provided for general information purposes only and does not constitute legal or other professional advice. Readers are advised to seek specific legal advice in relation to any decision or course of action contemplated.