On June 15, 1991, after 59 years of practicing law in Ontario, Joseph Wolfe Lieberman received his L.L.B. degree from Osgood Hall Law School of York University.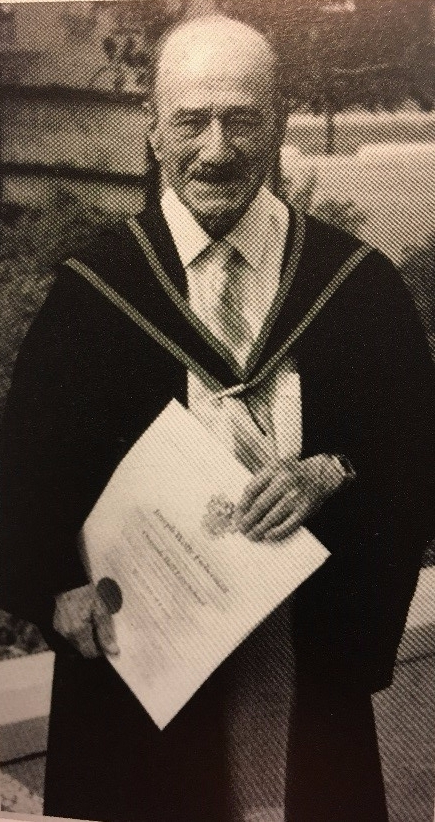 Joe was called to the Bar in 1932, having studied law at Osgoode Hall. He began his career as a lawyer in Toronto, working for free on many occasions, just to gain experience. It was after all during the height of the Great Depression. After a few years in Toronto, Joe moved to the Timmins area, where he practiced law until 1951, when he, his wife Esther and their two children moved to Kitchener. Joe quickly became known in the Kitchener-Waterloo area as a tenacious advocate for his clients. His practice flourished.
 Joe was appointed Queen's Counsel in 1959, served as President of the Waterloo Law Association, and in 1982, after completing fifty years at the Bar, he was appointed a Life Member of the Law Society of Upper Canada.
And finally, after 59 years of "practicing law", Joe received his LLB degree. It's not that it took Joe that long to get it right. It's just that prior to 1960, Osgoode Hall students did not receive the degree of Bachelor of Laws upon completing law school. At a Special Convocation held on June 15, 1991, marking Osgoode Hall's centenary, lawyers from across the country who had graduated from Osgoode Hall prior to 1960 received their LLB Degrees.
With his degree in hand, Joe continued to practice law, finishing his career as Counsel to Madorin, Snyder in the late 1990's.
Joe loved the law and loved being a lawyer. Throughout his illustrious career which spanned more than sixty years, Joe practice law with dignity, integrity and a sense of humour. Joe was a tribute to the profession, exemplifying that practicing law was and is an honourable profession.
Joe passed away on June 6, 1998.
Stephen R. Grant is a solicitor at Madorin, Snyder LLP a full service law firm serving Kitchener, Waterloo, Cambridge, Guelph and the surrounding area.
The information contained in this article is provided for general information purposes only and does not constitute legal or other professional advice. Readers are advised to seek specific legal advice in relation to any decision or course of action contemplated.