The word on the street is that steel producers did not wait for Donald Trump to apply the steel tariffs to Canada before they increased the price of steel.  Contractors and subcontractors are worried about committing to fixed prices without knowing where steel prices are headed.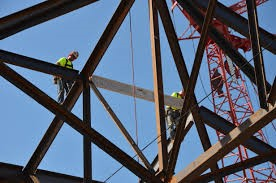 A material price escalator clause is a potential solution to the problem.  However, such clauses are like pet rocks and polyester pants:  They have been out of fashion for so long that it is a challenge to find the genuine article.  I have combed through the archives and found three examples. 
The first is from Bethlehem Steel Co. v. Turner Constr. Co., 2 N.Y.2d 456:
"The price or prices herein stated are based on prices for component materials, labor rates applicable to the fabrication and erection thereof and freight rates, in effect as of the date of this proposal. If, at any time prior to completion of performance of the work to be performed hereunder, any of said material prices, labor rates and/or freight rates shall be increased or decreased, then in respect of any of said work performed thereafter there shall be a corresponding increase or decrease in the prices herein stated."
The second is from Einhorn v. Ceran Corp., 177 N.J. Super. 442 involving a contract for the sale of a residential condominium: 
"This agreement is conditioned upon the ability of Seller to complete the unit at present prices for materials and labor. If Seller is at any time or for any reason, unable to complete the unit at the present prices for materials and labor, Seller shall have the option to cancel this contract upon written notice to Buyer, in which event the full deposit shall be returned to Buyer without interest and this agreement cancelled. However, the Buyer shall have the option of paying any increased costs of labor and material, and if Buyer, within ten (10) calendar days after notice of any increase in cost, agrees in writing to pay such increased costs at closing, this agreement shall continue in full force and effect."
And finally, an example from a Canadian case, H.T. Drywall Ltd. v. Carriage Holdings Ltd., 1979 CarswellAlta 452:  
"These prices to take effect as of now, May 13, 1976, and will remain until Sept. 30, 1976, or as such time as further increase in cost of materials. At such time, the price increase shall be passed on to the General Contractor, immediately (sic)."
In my view you should consider these clauses as a good starting point rather than the finished product that you can put directly into a contract.  Of course, the hard part is likely to be convincing your client to accept an escalator clause in the first place. 
Ted Dreyer is a construction and insurance lawyer at Madorin, Snyder LLP. Madorin, Snyder LLP is a full service law firm serving Kitchener, Waterloo, Cambridge, Guelph and the surrounding area.  Please visit our construction law page.
The information contained in this article is provided for general information purposes only and does not constitute legal or other professional advice. Readers are advised to seek specific legal advice in relation to any decision or course of action contemplated.